The California of the North. The sun is out and summer is in full swing – it's the perfect time to get out and explore your neighbourhood and community. Adventure out & create your memories in The North Okanagan and check out Davidson Orchards, Planet Bee, Camelot Haven Alpaca Farm, Triple Island Cheese Farm, O'Keefe Ranch, Vernon Farmers' Market at Kal Tire Place, and this is just the beginning. If you have a green thumb, you'll be thrilled to know that gardens thrive in this fertile area and you'll be able to have your very own little kitchen garden with little hassle.
Take the family out to experience the wildlife; Kingbirds, Bald Eagles, Swans, Great Blue Heron, Great Grey Owl, there are over 300 species of birds that make the Okanagan their home. Keep your eyes peeled to see the playful marmots & busy painted turtles in their natural environments at Allan Brooks Nature Centre, Rose's Pond, Predator Ridge, & Carrs Landing to name just a few places to scout out.
There is always a hub of activity for locals and visitors alike in Vernon. Whether it be our beautiful Outdoors or to embrace your family and friends touring the multitude of wineries, specialty restaurants, or just to relax with a local wine and listen to incredible jazz at our local "Vernon Jazz Club" situated in a wonderful heritage building downtown.
Come and explore Vernon & the North Okanagan, the locals will make you feel at home. And, it could be your home if you just give Thrive Okanagan Real Estate Team a call at 250-503-3487
We are the team that cares and we want you to be part of our Family & community!
Steve, Jen, Beate, Ryan, & Jamie
VERNON – SUB AREAS
ALEXIS PARK
Alexis Park is one of the founding neighborhoods in Vernon! Living in Alexis Park allows you to enjoy walking access to some of Vernon's most popular spots, including the Vernon Multiple (Kal Tire Place), Vernon and District Performing Arts Center, Vernon Aquatic center and Curling Rink…Not to mention the Village Green Mall! Turtle Mountain provides some of the most stunning views of the City of Vernon and is a must see! Homes in this area range between the low $300's and up to $600.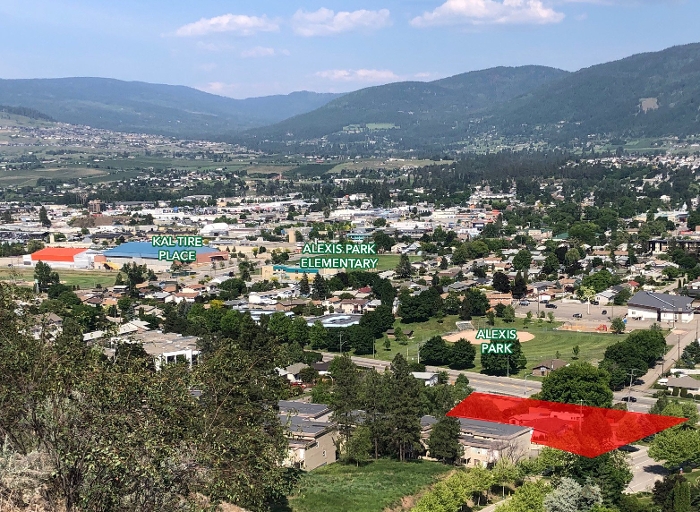 BELLA VISTA
With sweeping valleys and Okanagan lake Views, the Bella Vista area has so much to offer. Minutes from Okanagan Lake and Kin Beach. Enjoy Davison Orchards, a family favorite for fresh fruit, baking, breads and outdoor fun including the popular Fall Pick a Pumpkin Patch. Homes in the Area can range from the $400's to over a million and can be anywhere from the early 70's to brand new builds. If you are considering Vernon for your new home Bella Vista should not be easily passed.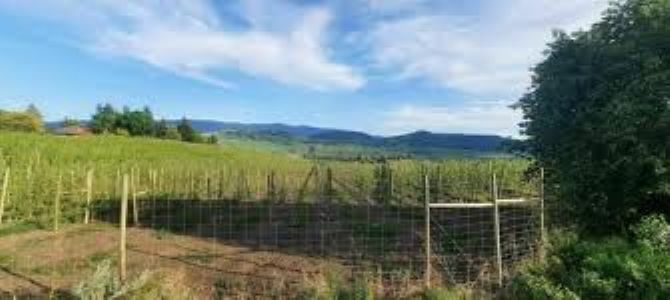 BX – North & South
The BX neighborhood is a large, rural area on the outskirts of Vernon. This area is where country living meets the city. Both the North and South BX provide stunning mountain or lake views with a much quieter, private lifestyle! Known for acreage living on parcels between half of an acre to 10 acres or more. These properties can be in the value range of $600 to the 2 to 3 million price points. The "BX", named after the Bernard Express Stage Coach that stopped here during the Gold Rush Era, it is only minutes to Silver Star Mountain Resort and Sovereign Lake Nordic Center…Your playground awaits!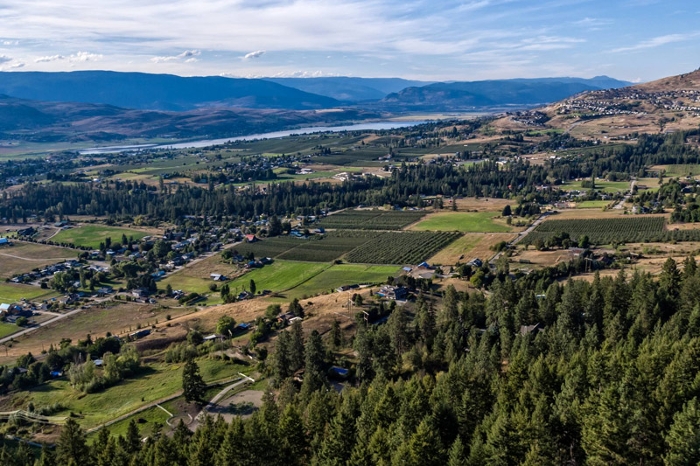 COLDSTREAM
Coldstream is a district municipality just outside of Vernon in British Columbia, located at the northern end of Kalamalka Lake in the Okanagan Valley. Popular for rural feel living and outdoor activity but just minutes from everything. Incorporated on December 21 1906. The municipality is directly southeast of Vernon and is considered part of Greater Vernon. Well known for the beautiful beaches including Kal Lake which is one the top 10 beautiful lakes in the world, Kalamalka Provincial Park, agricultural, farming and rural living. Homes can range from $500 to $600 and up over the million $ range. Lakefront homes have sold for upwards of 8 to 12 Million.
EAST HILL
Location, Location! That's what Real Estate is all about and East Hill provides the perfect location for a bit of a country Rural feel backing on to the South BX. Many homes have sweeping city and valley views. East Hill is a favorite for all ages as it provides easy walking to downtown Vernon. Bus routes and all levels of schools are provided in this great area of Vernon. Homes can range from $450's to over a Million but the average home would be in the $550 to $650 range of value.
FOOTHILLS
The Foothills area is an upscale area of residential home in Vernon. A quick 5 minute drive into town or a or very popular for just a 15 minute drive to SilverStar Mountain Resort. Allowing for easy access to amenities as well as a world class skiing. Fall in love with the expansive views of all 3 lakes, available from nearly every angle. Prices generally start in the $600's and up in the 1 to 2 million range.

MIDDLETON MOUNTAIN
It's divided between Vernon and Coldstream side only minutes from downtown and Kalamalka Lake. Offering beautiful views and a diversified style of housing in newer developments. Great recreational parks with playground, Tennis, Pickle ball and volleyball courts. The Middleton Loop is a wonderful walking trail. Homes can start in the 600's and can reach in the 1 to 2 million range with an average of about $750 to $900's.

HARWOOD
A favorite for locations being just below East Hill. This older area of Vernon provides homes from the $300's and up to about $550 and are anywhere from the early 50's to the 70's. Affordable starter homes and easy access to town and buses are what is attractive to young families and empty nesters. Harwood Elementary is a great school! Harwood also provides many retirement strata developments that are very popular for our retiring population but still able to independently live.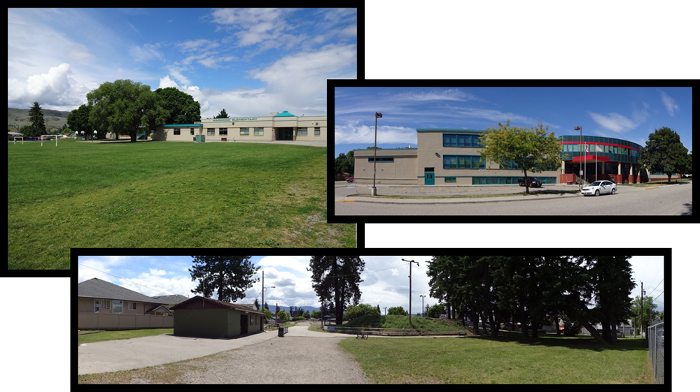 MISSION HILL
Located in southwestern Vernon, this neighbourhood is very close to Vernon Jubilee Hospital. There are green spaces such as Mission Hill Park and Polson Park nearby to explore. Okanagan College Connector Trail is a great walk for anyone looking to escape the hustle and bustle of the city. The trail connects Mission Hill and South Vernon. Known for affordable homes and great views you can own a home in this area for $400 to $650 range of price.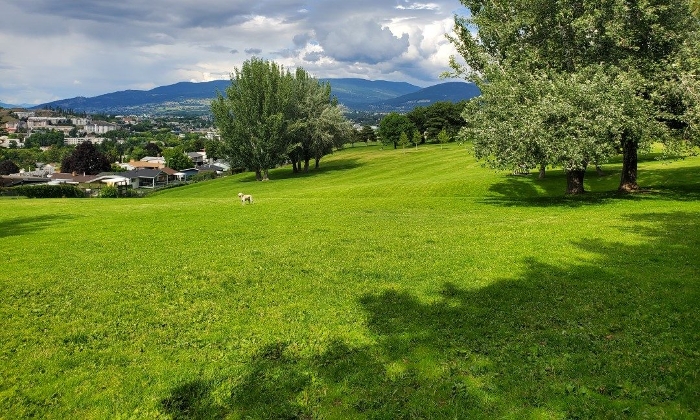 OKANAGAN LANDING
The Ok Landing area is located just west of Downtown & on your way to Okanagan Lake. Attracting many to the area are affordable homes, lots of amenities and shopping as well as both Elementary and High School levels of education. Easy walking to Soccer Fields and Kin Beach. Homes in the area can Range from $400's to just under $700's and would be from the early 60's to the late 80's mostly. Some new developments in recent years include retirement communities as the area is level and great for walking trails & parks. Affordable Townhomes have also been developed in recent years.
PREDATOR RIDGE
Predator Ridge is located just outside of Vernon in between Kal and Okanagan Lake. This first class golf community features resort style living with access to the prominent clubhouses and restaurants. At the top of Predator Ridge sits Sparkling Hill, a transformative spa retreat and wellness oasis. Known for homes owned by many NHL players this playground for retirement and vacation lifestyle can be obtained for as low as $700 for single family homes or $300's and up for Strata living.
SILVER STAR
We are so spoiled and grateful to have Silver Star Provincial Park for all Summer and Winter activities such as mountain biking, hiking or enjoying the Ski Resort and Village only 30 minutes from Vernon, BC!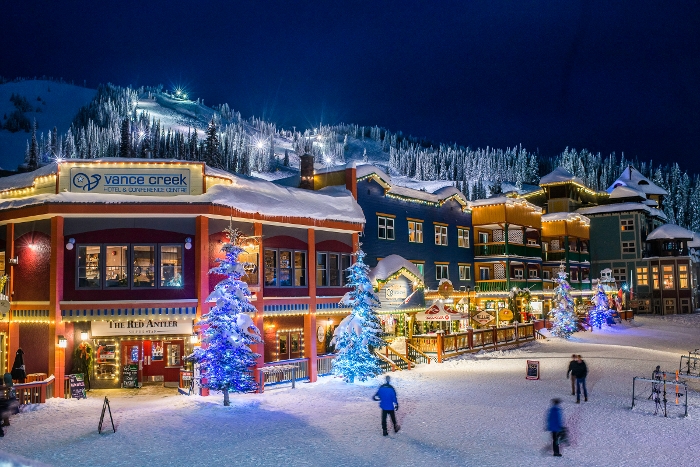 SOUTH VERNON
Located in southwestern Vernon along Okanagan Avenue and Okanagan Landing Road, this neighbourhood is only a short drive from downtown. With beaches like Kin Beach nearby, residents have easy access to the beautiful Okanagan Lake in the summer. There are a variety of businesses in the area such as Tim Hortons, McDonald's, Longhorn Pub and Liquor Store and much more. Ellison Elementary School and Clarence Fulton Secondary can also be found in this neighbourhood.

SWAN LAKE (West)
Located in northern Vernon, Swan Lake West has a good variety of commercial properties along Highway 97. Swan Lake is popular for boating, kayaking, and the Vernon Rowing and Dragon Boat Club. With Atlantis Water Slides, Swan Lake Nursery Land Fruit Market and Garden Centre, and more, there is plenty to explore. Young families enjoy shopping at the markets and taking their children to the water slides in this neighbourhood.

WESTMOUNT
Located east of downtown Vernon, this neighbourhood has a strong residential population. There is a wide range of commercial businesses near this neighbourhood in South Vernon and downtown Vernon is only a short drive away. Westmount is a good neighbourhood for families. Heritage Park has a playground for kids and the Okanagan Training Rink is fantastic to learn how to skate. Most tasks can be completed in South Vernon, which is right next to Westmount.